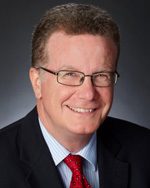 John Harris is a communication strategist and business writer. He has worked in public relations since 1991 and earlier spent 15 years as a newspaper reporter and editor. In PR, he has worked in the public and private sectors, and in both the agency and corporate sides of the business.
In his last full-time role, he was a senior VP at Houston First Corporation, working for 10 years in corporate communications and public affairs. Houston First operates the city's convention and entertainment facilities and promotes Houston as a tourism destination.
John has counseled or written for the City of Houston, Austin Energy, the Houston Firefighters' Relief & Retirement Fund, the Lower Colorado River Authority, Dell Inc., Compaq, the University of Texas at Austin, the University of St. Thomas, Novo Nordisk and Centura Health, among others.
For Houston's Joint Hurricane Housing Task Force, he served on a team that helped move several thousand families evacuating from Hurricanes Katrina and Rita into transitional housing in three months. The work won Silver Quill and Bronze Quill awards from IABC and an Excalibur Award from the Public Relations Society of America.
John has served his profession through the International Association of Business Communicators for several years. He is currently vice president for region development for the IABC Southern Region. He is also a past president of IABC Houston and IABC Austin. John holds a bachelor of journalism degree from the University of Texas. He and his wife Jane have two grown children.